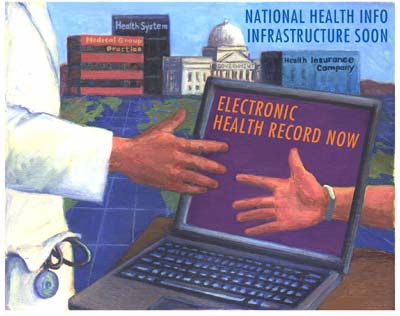 THE HEALTH INFORMATION TECHNOLOGY SUMMIT WEST

A Leading Forum on the Electronic Health Record and Rapidly Emerging Health Information Technology Policy...both Globally and Nationally
Hyatt Regency San Francisco
San Francisco, CA
March 6 - 8, 2005

Sponsored by

Bronze Grantors


Cyber Cafe Grantor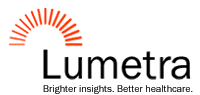 Governmental Agencies Represented: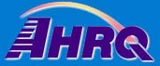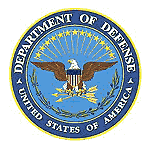 ---
SAVE THE FOLLOWING DATES
THE SECOND HEALTH INFORMATION TECHNOLOGY SUMMIT
A Leading Forum on the Electronic Health Records and Rapidly Emerging Health Information Technology Policy...both Globally and Nationally

September 7-9, 2005

Renaissance Washington DC Hotel
Washington, DC

For future information about The Health Information Technology Summit, please complete the form below.
NOW AVAILABLE!
The HIT Summit West on CD-ROM
March 6-8, 2005
The HIT Summit West CD-ROM set will include video of all faculty presentations, synchronized with the PowerPoint presentations, which can easily be viewed using your computer. You can instantly navigate to the presenter and the exact content you wish to view.

Get yours today for only $295!
Special rate of only $99 for HIT Summit Alumni.
Click here for special alumni rates.
Discounts available for purchase of multiple copies.

Click here for more details
and to order your copy today!


ALSO AVAILABLE
FEATURING
Regional Health Information Organization (RHIO) Formation, Funding and Operations
Health Information Technology Financing and Payment Incentives
Electronic Health Records Selection and Implementation Strategies
Practical Case Studies from the Field
A Faculty of Over 100 National Regulators and Experts
CMS ADMINISTRATOR MARK MCCLELLAN TO KEYNOTE SUMMIT
Mark B. McClellan, MD, PhD
Administrator, Centers for Medicare and Medicaid Services, Former Commissioner, Food and Drug Administration, Washington, DC
KEYNOTE SPEAKERS:
Carolyn Clancy, MD
Director, Agency for Healthcare Research and Quality, Rockville, MD

Molly Joel Coye, MD, MPH
Founder and President, Health Technology Center, Former Director, California Department of Health Services, Former New Jersey Commissioner of Health, San Francisco, CA

Carol Diamond, MD, MPH
Managing Director, Health Program, The Markle Foundation, Chair, Connecting for Health, New York, NY

Alain C. Enthoven, Ph.D.
Marriner S. Eccles Professor of Public and Private Management, Emeritus, Graduate School of Business, Stanford University, Stanford, CA

John Lewin, MD
CEO, California Medical Association, Sacramento, CA

Janet Marchibroda
Chief Executive Officer, eHealth Initiative and Foundation, Executive Director, Connecting for Health, Washington, DC

FEATURED FACULTY

Douglas Allen, MD
Medical Director, Greater Newport Physicians IPA, Newport Beach, CA

Margret Amatayakul, MBA, RHIA, CHPS, FHIMSS
President, Margret\A Consulting, LLC, Clinical Associate Professor, University of Illinois, Adjunct Faculty, College of St. Scholastica, Schaumburg, IL

W. Holt Anderson
Executive Director, North Carolina Healthcare Information and Communications Alliance, Inc., Research Triangle Park, NC

Leo Barbaro
Vice President, Network Management Services, Anthem Blue Cross Blue Shield of Connecticut, North Haven, CT

Peter Basch, MD
Medical Director, e-Health Initiatives, MedStar Health, Co-chair, Physicians Electronic Health Record Coalition, Washington, DC

Alice J. Becker, Esq.
Senior Associate General Counsel, PeaceHealth, Bellevue, WA

William Bernstein, Esq.
Manatt, Phelps & Phillips, New York, NY

Eric Book, MD
Senior Vice President and Chief Medical Officer, Blue Shield of California, San Francisco, CA

Claire Broome, MD
Senior Advisor, Integrated Health Information Systems, Centers for Disease Control and Prevention, Washington, DC

John D. Cacciamani MD, MBA
Medical Director, Temple University Health System, Philadelphia, PA

Robert E. Chason, EdD
Chief Executive Officer, University of California Davis Medical Center, Sacramento, CA

Don Crane
Chief Executive Officer, California Association of Physician Groups, Los Angeles, CA

Frances Dare
Director, Healthcare Practice, Cisco Systems, Internet Business Solutions Group (IBSG), Richardson, TX

Arthur Davidson, MD, MSPH
Director of Public Health Informatics, Denver Health, Associate Professor, Preventive Medicine and Biometrics and Family Medicine, University of Colorado School of Medicine, Denver, CO

Jac C. Davies
Director of Program Development, Inland Health Northwest Health Services, Spokane, WA

Brian DeVore
Director of Government Initiatives, Kryptiq Corporation, Beaverton, OR

George Eisenberger
Manager Solutions Architecture, IBM, Armonk, NY

Lorraine Fernandes, RHIA
Senior Vice President of Healthcare Practice, Initiate Systems, Inc., Walnut Creek, CA

Kevin Fickenscher, MD
National Director for Clinical Transformation & Partner, Clinical Transformation, CSC Global Healthcare Group, San Francisco, CA

Mark Ficker
Chief Financial Officer, Brown & Toland Medical Group, San Francisco, CA

James Fisher
Director, PricewaterhouseCoopers, Indianapolis, IN

Jeff Flick
Regional Administrator, San Francisco Regional Office, Centers for Medicare and Medicaid Services, San Francisco, CA

Bruce Merlin Fried, JD
Partner, Health Care Group, Sonnenschein Nath & Rosenthal LLP, General Counsel, eHealth Initiative and Health Technology Center, Former Director, Center for Health Plans and Providers, HCFA, Washington, DC

Mark Frisse, MD, MBA, MSc
Director, Regional Health Initiatives, Vanderbilt Center for Better Health, Nashville, TN

Thomas Fritz
Chief Executive Officer, Inland Northwest Health Services, Spokane, WA

Frederick Galusha
Chief Information Officer, Inland Northwest Health Services, Spokane, WA

Rachel Glitz, Esq.
Associate, Davis Wright Tremaine, San Francisco, CA

Alan S. Goldberg, JD, LLM
Partner, Goulston & Storrs, Adjunct Professor of Law, University of Maryland School of Law, Suffolk University Law School, Past President, American Health Lawyers Association, Washington, DC

Gail Graham
Director, Health Data & Informatics, Veterans Affairs Central Office, Washington, DC

Elinor Hall
Health Policy and Management Consultant, Former Oregon Health Commissioner, Portland, OR

Jeffrey Hanson, MPH
Regional Healthcare Manager, Verizon Communications, Director, Bridges to Excellence, Portland, ME

Carolyn P. Hartley, MLA, CHP
President and CEO, Physicians EHR, LLC, Cary, NC

Gerald M. Hinkley, Esq.
Partner, Davis Wright Tremaine, San Francisco, CA

Andrew P. Ho, M.D.
Assistant Clinical Professor, University of California, Los Angeles, Lead Developer, Open Infrastructure for Outcomes Project, Torrance, CA

Jay Jayamohan
Chief Executive Officer, Emerging Technology Advisors, LLC, Fairfax, VA

Ed Jones
Executive Vice President, FisaCure Inc., Chair, WEDI Foundation, Carrollton, TX

David W. Kaplan, MD, MPH
Professor Pediatrics and Head, Adolescent Medicine, University Colorado School of Medicine, and Chief Medical Information Officer, The Children's Hospital, Denver, CO

David C. Kibbe, MD
Director, Center for Health Information Technology, American Academy of Family Physicians, Chapel Hill, NC

Deborah Kohn, MPH, RHIA, CHE, CPHIMS, FHIMSS
Principal, Dak Systems Consulting, San Mateo, CA

David Lansky, Ph.D.
Director, Health Program, The Markle Foundation, Former President, Foundation for Accountability (FACCT), New York, NY

John Larkin
Senior Associate, Booz Allen Hamilton, Rockville, MD

Steven S. Lazarus, Ph.D., FHIMSS
President, Boundary Information Group, Former Chair, WEDI, Former Executive, MGMA, Denver, CO

Mark Leavitt, MD, Ph.D., FHIMSS
Chair, Certification Commission for Healthcare Information Technology, North Plains, OR

Peter Lee, Esq.
President, Pacific Business Group on Health, San Francisco, CA

Stephen Levinson, MD
CMO, iMedX, Bridgeport, CT

Louise Liang, MD
SVP for Quality and Clinical Systems Support, Kaiser Foundation Health Plan, Inc., Oakland, CA

Antonio Linares, MD
Medical Director of Quality, Lumetra, San Francisco, CA

John Loonsk, MD
Director for Informatics, Centers for Disease Control and Prevention, Atlanta, GA

Rick MacCornack, Ph.D
Director of Quality Improvement, Northwest Physicians Network, Tacoma, WA

Matt Madison
Project Manager, Colorado Health Information Exchange, Aurora, CO

Robert J. Margolis, MD
Managing Partner and Chief Executive Officer, Healthcare Partners Medical Group, Torrance, CA

Mike Matull
Director of Information Technology, The Coalition of Orange County Community Clinics, Santa Ana, CA

Steve McDermott
Chief Executive Officer, Hill Physicians Medical Group, San Ramon, CA

Theresa McGillvray-Dodd
Product Manager, Siemens, Bellevue, WA

Toni Mills
Managing Director, Office of Clinical Affairs, Blue Cross Blue Shield Association, Chicago, IL

Arnold Milstein, MD, MPH
Mercer Human Resource Consulting, Medical Director, Pacific Business Group on Health, Co-Founder, Leapfrog Group, San Francisco, CA

Bruno Nardone
Solutions Manager, IBM, Armonk, NY

J. Marc Overhage, MD, Ph.D.
Chief Executive Officer, Indiana Health Information Exchange, Indianapolis, IN

Eric Pan, MD
Senior Analyst, Center for Information Technology Leadership, Instructor in Medicine, Harvard Medical School, Boston, MA

Todd Peterson
Vice President and CIO of System Support, Sutter Health, Sacramento, CA

Marc Pierson, MD
Regional Vice President, Clinical Information and Special Projects, Whatcom Region/St. Joseph Hospital, Bellingham, WA

Victor Plavner, MD
Chairman and Chief Executive Officer, Maryland/DC Collaborative for Healthcare Information Technology, Columbia, MD

Dena S. Puskin, Sc.D.
Director, Office for the Advancement of Telehealth, US Health Resources and Services Administration, Rockville, MD

Michael Reagin
Director of IT Research and Development, Providence Health System, Portland, OR

Lonny Reisman, MD
Chief Executive Officer, ActiveHealth Management, New York, NY

Wes Rishel
Vice President, Research Area Director, Gartner, Inc., Alameda, CA

Jeffrey W. Rose
Founder and Chief Executive Officer, HealthAlliant, Former Founder and President and Chief Operating Officer, NovaCare, Inc., Piedmont, CA

Sydney V. Ross-Davis, MD
Medical Director SID, Cross Blue Shield of Illinois, Chicago, IL

Andy Schaer
Chief Marketing Officer and Vice President, Solutions Development, CMO, The Abreon Group, Pittsburgh, PA

Jordana Schwartz, Esq.
Partner, Sonnenschein, Nath & Rosenthal, LLP, New York, NY

Mary Segal, Ph.D.
Executive Director, Research Center for Health Care Decision-making, Inc., Wyndmoor, PA

Mike Skinner
Board of Directors, Santa Barbara Regional Health Authority, Santa Barbara, CA

Paul T. Smith, Esq.
Partner and Co-chair, HIT/HIPAA Task Force, Davis Wright Tremaine LLP, San Francisco, CA

Michele Snead
Director, Performance Consulting, The Abreon Group, Pittsburgh, PA

Neil A. Solomon, MD
President, NAS Consulting, San Francisco, CA

David St. Clair
Chairman and Chief Executive Officer, MEDecision, Inc., Wayne, PA

Anthony Stever
Information Systems and Technology Director, Redwood Community Health Coalition, Santa Rosa, CA

George Swetzer
Technology Officer, Northern Sierra Rural Health Network, Nevada City, CA

Michael van Duren, MD, MBA
Chief Medical Officer, San Francisco Health Plan, San Francisco, CA

Joseph A. Welfeld, FACHE
Program Director, MPA in Health Administration, Long Island University, Orangeburg, NY

Rebecca L. Williams, RN, JD
Partner and Co-chair, HIPAA Task Force, Davis Wright Tremaine LLP, Chair, Preemption Sub-workgroup, Workgroup for Electronic Data Interchange, Seattle, WA

Tom Williams
Executive Director, Integrated Healthcare Association, Walnut Creek, CA

Craig H. Winslow, Esq.
Office of General Counsel, Government Accountability Office (GAO), Washington, DC

Scott Young, MD
Director, Health Information Technology Research and Programs, Agency for Healthcare Research and Quality, Rockville, MD

Barry Zallen, MD
Blue Cross Blue Shield of Massachusetts, Boston, MA

Kepa Zubeldia, MD
President and Chief Executive Officer, Claredi, Former Chair AFEHCT, Former Member, NCVHS, Co Chair, WEDI Security Policy Advisory Group, Kaysville, UT